Reuters February 24, 2010
CHICAGO (Reuters.com) - When Barack Obama merely mentioned how much he liked his BlackBerry, the unofficial endorsement was said to be worth as much as $50 million. While not in the same stratosphere, a small comic book startup is using caricatures of the president, First Lady Michelle Obama and other big names to drive up sales.
Blue Water Productions www.bluewaterprod.com has tapped...

More
National News: ABC News February 17, 2010

(media content)

More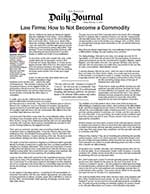 Publication: Los Angeles Daily Journal February 12, 2010
Top tier California law firms are facing the biggest financial challenge in their history: commoditization of high-end legal services and the plummeting fees that could surely follow. Some are in denial while others are working to differentiate with niche practices - but a few select firms will find high-trajectory growth in this new environment by going a step further. Their ...

More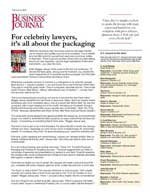 Publication: Washington Business Journal February 12, 2010
While the recession may have been unkind to the legal industry, you're a lawyer who's pretty sure you're an exception. You've identified a hot little niche for yourself and read every word ever written on that topic. There's just one problem: Every time you start talking about your new expertise - say the legal implications of derivative instruments - you clear the room.
Enter Maggie...

More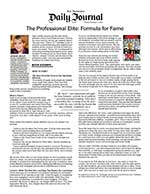 Publication: San Francisco Daily Journal February 5, 2010
High visibility lawyers get the best clients, television shows, book deals and earn 10 times the norm; but how do they get celebrity status? The new book, "Fame 101," identifies a mix of powerful personal branding and celebrity-level publicity as the common formula of America's super successful. "Fame 101" is a blueprint for harnessing branding and publicity power using the fame...

More
Celebrity MDs Learn from Hollywood & Washington With Fame 101
Yahoo! News January 28, 2010
Portland, Oregon January 28, 2010 -- Celebrity doctors attract high-value patients, get book deals, CNN expert spots, lucrative speaking engagements, and earn ten times the norm; but how do they win that celebrity status? Publicity and branding experts report high-visibility doctors are as adept at publicity and personal branding as any Hollywood film idol or rock star...

More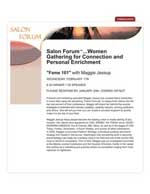 Event: Salon Forum January 26, 2010
"Fame 101" with Maggie Jessup
WEDNESDAY, FEBRUARY 17th
6:30 DINNER 7:30 SPEAKER
PLEASE RESPOND BY JANUARY 20th, COMING OR NOT
Publicist and marketing specialist Maggie Jessup has created Alpha Celebrities in every field using her pioneering "Fame Formula" to catapult her clients into the top one percent of their professions. Maggie will share her behind-the-scenes...

More